Have you heard of 'ghost-nets'?
They are fishing nets that have been abandoned at sea. They are so named because they continue to kill marine creatures that get trapped in them, even without human intervention.
It is a global problem of great dimensions and multifactorial causes.
The Environmental Angle
Fredrik Myhre, a marine biologist and senior advisor in WWF-Norway says ghost fishing through lost or abandoned fishing gear is one of the major killers for fish, mammals, seabirds and invertebrates in the ocean every year.
"We all depend on a healthy ocean – and both humans and marine animals are all paying a high price if the problems caused by lost fishing gear are not solved. We need to improve our knowledge about the amount of fishing gear that is being lost at sea and at the same time to be more efficient in recovering what is being put into the sea in the first place"– he said.
---
640,000 metric tons of fishing gear is lost on a global basis annually;
33% of all plastic litter in the ocean comes from the fishing industry;
---
Existing Solutions
Fortunately, there are more and more initiatives that seek to contribute to a cleaner and healthier ocean.
With the passage of the Sustainable Tour through the Netherlands, we were able to meet with Ghost Diving Organization, a wonderful group of technical divers who have created the Healthy Seas initiative. They voluntarily dive to recover these nets and send them to be transformed into other products, such as the interior of new Hyundai vehicles – to know more about their work, you can read the full article here.
While these brave divers continue to clear the ocean of already submerged ghost-nets, products are being created to prevent the nets from being lost in the first place.
Meet PingMe
Simplest ideas are generally the best, and when Norwegian-based Ocean Space Acoustics (OSAC) set about finding a solution, they collaborated with SINTEF, Norway's largest research institute to work, not just towards achieving cleaner oceans but to also aid fishermen to avoid potential costly losses of fishing equipment.
This collaboration has resulted in the patented 'PingMe' – a smart tool for tagging gear and objects underwater which, with new transponder technology either integrated with the boat's sonar or as a stand-alone ('plug and play') system, makes it easy to find and identify the lost gear.
Now reaching the latter stages of development, PingMe will initially be on the market as an affordable 'standalone' system (i.e. sensor and wheelhouse-based signal reader) but work is already underway to provide a system that will allow for simple integration of the signal reader into any vessel's existing sounder.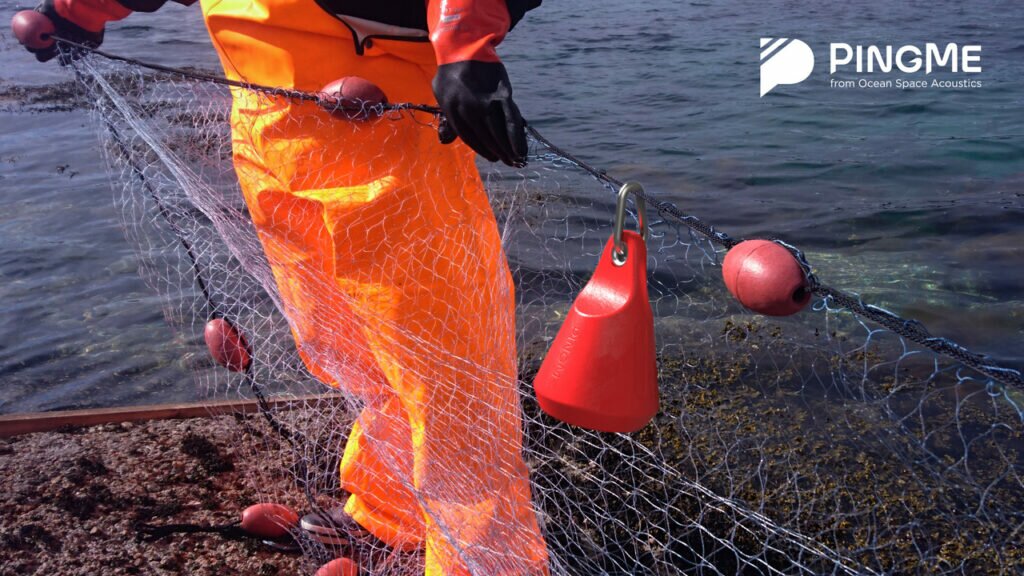 How does it work?
In layman terms, PingMe consists of a small, user-friendly sensor device or 'egg' which is attached to the gear before shooting and, with a software module integrated in the boat's existing sounder system, or as a stand-alone system, this device acts as a locator and location monitoring system.
The PingMe software allows communication with the transponder to determine location and ID and, as an added bonus, the PingMe service also reports location and ID to the 'Cloud' where the information is also stored and data on lost, detected and retrieved gear is reported to the cloud, some of it automatically.
This not only enables the fisherman to monitor the location of his gear but could, depending on how many users are using the information available, help avoid conflicts with other boats or fisheries who can use the system to 'see' where gears are working.
The transponder itself is passive and reflects the sound waves originating from the sonar – to a range of 1,000 metres. The reflected signal is encoded with a unique identity so that the sounder with PingMe software integrated can identity the transponder and calculate it's position. This information can be encrypted if the information is to be transferred to the cloud. And, with PingMe's scheduled online service, you can:
Register your own lost gear with associated ID, or
Report findings of other lost gears.
An added bonus of this new product is that the PingMe sensor also relays information on water temperature at its location – knowledge that can greatly benefit fishermen when choosing the site for shooting their gear.
PingMe can also be used for better control during active fishing, by attaching transponders at regular intervals to the gear, better control of where the gear is currently located can make fishing more efficient and profitable.
Feedback
Comments from fishermen in Norway suggest a very positive reaction to the PingMe system and, on the west coast of Ireland where harsh sea conditions are common, several lobster & crab pot fishermen are excited at the concept with one particular skipper commenting of the potential reduction in loss of gear as being of 'huge benefit'.
"When my gear has been out for several days during stormy conditions, my only thought as I go to sea is 'I wonder how many leaders of pots/traps will I have lost this time?" one fisherman said.
"Before even leaving my home, knowing that my gear is still where I left it, or at least if it has moved, that I will have the ability to go and find it would give me fantastic peace of mind," he said, adding that a tool such as this which will reduce the major costs that fishermen face in replacing lost gear will be a 'game changer' for the industry.
A lost fishing gear reporting system in combination with the demand for a technology to recover what is being lost – or more specialised divers in net recovery – will be important tools to reduce the horrific damage caused by ghost gear worldwide.
For more info visit osac.nor